The Collagen Elixir
A bioavailable marine collagen-infused powder that promotes radiant, hydrated skin and healthy hair and nails.
$60.00
$60.00
or 4 payments of $15.00 with
The Collagen Elixir, is a supercharged blend that contains the highest dose of collagen from wild-caught fish, without the fishy taste. The Collagen Elixir takes inspiration from WelleCo's hero collagen product, evolving the formula with a fresh blend of the highest grade marine collagen peptides and potent ingredients to amplify the benefits for the skin, body, hair and nails.*
The sustainably sourced marine collagen works in synergy with vitamin C, hyaluronic acid, silica and digestive enzymes for a powerful formula that supports glowing skin, strong nails, thick hair and a healthy body.* The Collagen Elixir is free from dairy, soy, gluten, artifical colours and sweeteners, added sugars and GMO.
Each serving (4g) contains 3.5g of the highest grade marine collagen peptides and a potent blend of supporting ingredients, including vitamin C and hyaluronic acid.
Formulated with:
+ Bioavailable, sustainably sourced marine collagen to support glowing skin and strong hair and nails.
+ Sustainably sourced from skin of 100% wild-caught North Pacific fish.
+ Unflavoured without the fishy taste to be added seamlessly in any hot or cold beverage.
+ Digestive Enzymes to help the body absorb the high dose of collagen peptides and amplify the skin-nourishing benefits.
+ Antioxidants including natural Vitamin C from Acerola Cherry and Beetroot to encourage a bright, even skin tone. Beetroot also gives this elixir it's unique, natural pink colour.
+ Hyaluronic Acid to supports hydration and elasticity in the skin.
+ Silica to maintain the skin's integrity and structure, while helping to boost collagen formation.*
"With the highest dose of collagen sourced from North Pacific, wild-caught fish, our new supercharged marine collagen blend is the most powerful formula on the market. After only eight weeks, you'll see and feel the difference – glowing skin, stronger nails and thick, healthy hair."
Proudly formulated, blended, and packed in Australia. We source only the finest quality local and imported ingredients from our trusted suppliers.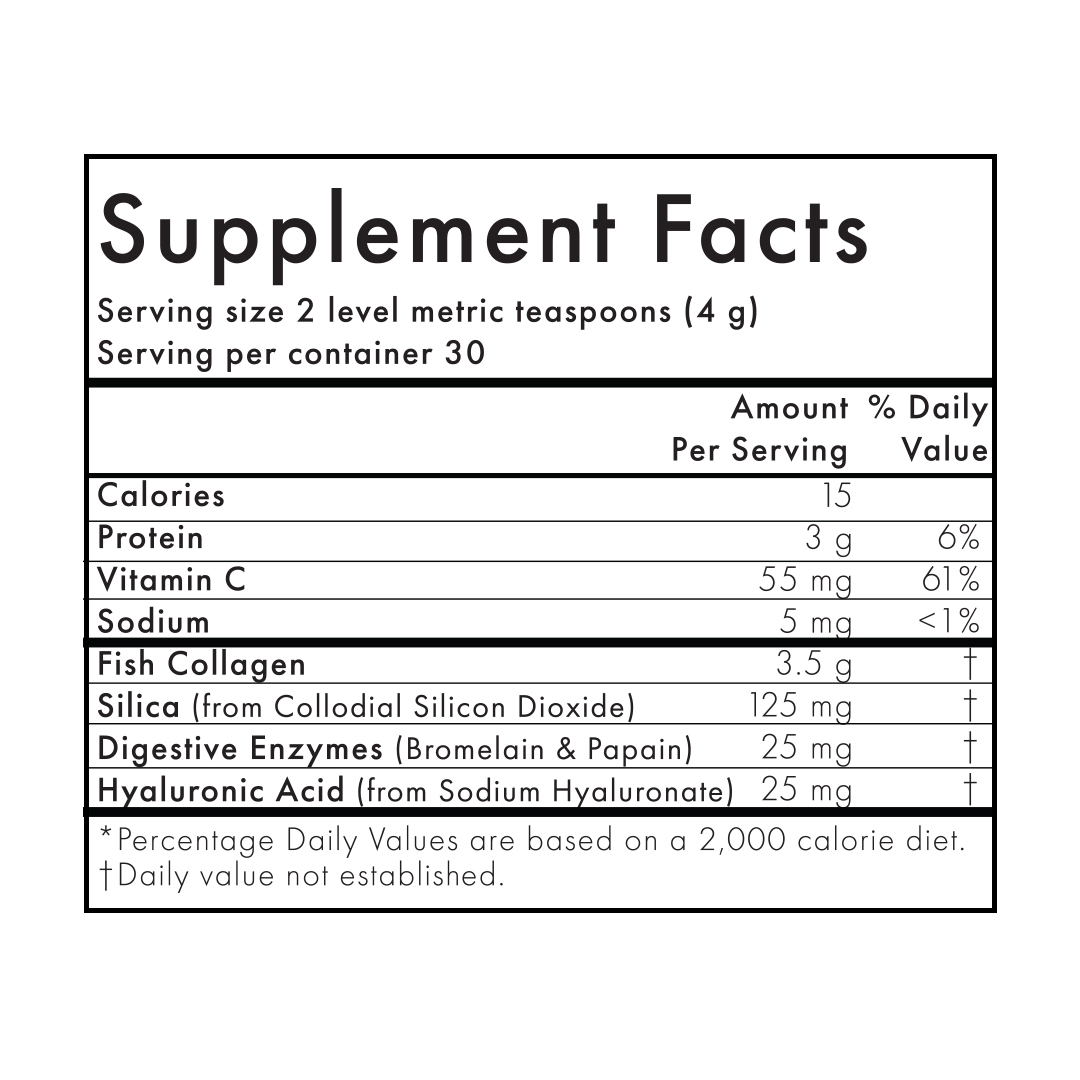 Ingredients: Marine Collagen Peptides, Vitamin C (from Acerola fruit extract), Silica, Beetroot Extract, Digestive Enzymes (Bromelain & Papain), Hyaluronic Acid.
Contains Fish (Cod & Pollock).
Directions: Mix 2 level metric teaspoons (4 g) with 6.8 fl oz of water or in a drink of your choice. Always use a dry spoon and consume within 60 days of opening.
Pregnancy & Nursing: We recommend speaking to your healthcare professional before use or commencing any new supplement routine during these times to ensure that this product is right for you.
If taking any medication or if you have a medical condition, please consult your healthcare professional before use.
Dietary Supplement.
Storage: Store below 77ºF in a cool, dry place away from sunlight. Keep out of reach of children.
Do not use if lid seal is missing or broken.
No added gluten, egg, dairy, lactose, soy, and nuts. No artificial flavours, colours, or sweeteners.
*These statements have not been evaluated by the Food and Drug Administration. This product does not intend to diagnose, treat, cure or prevent any disease.