The Super Kids Elixir + Protein
An all-in-one daily superfood powder to fuel the Super Kids of tomorrow.
$35.00
$35.00
or 4 payments of $8.75 with
Meet our new and improved The Super Kids Elixir + Protein – a convenient, all-in-one daily superfood powder to fuel Welle Kids aged 4-16. The Super Kids Elixir + Protein encourages growing bones and muscles, nourishes tummies thus supporting digestion with prebiotics and probiotics, supports healthy cognitive function and immunity, and helps to balance blood sugar levels for clean, sustained energy. And as a bonus? The yummy chocolate flavour will please even the pickiest kids! It's also vegan, non-GMO, gluten and dairy-free, with no artificial colours, flavours or sweeteners.

Feel confident that even the fussiest of eaters are getting the nutrients they need to support a happy, balanced young body and mind.
The Super Kids Elixir + Protein is chock-full of all the nutrients they need to grow, learn and discover.
Formulated with:
+ Real fruits and vegetables to fill any nutritional gaps and fuel growing bodies
+ Brazilian Acerola Cherry for a natural source of vitamin C that's easily absorbed by the body to help strengthen immune health
+ Prebiotics and probiotics to nourish tummies and support healthy digestion
+ Organic Brown Rice and Pea Protein for sustained, clean energy
+ Low GI Coconut Sugar to help balance blood sugar
+ Vegan vitamin D3 from Lichen for better calcium absorption
+ 100mg of Calcium per serve to support healthy growing muscles and bones*
"Nutrition really became a huge part of my life once I had my children. It gave me a whole different perspective on what it means to be well, not just for yourself, but also for them. We've created a product that not only supports their nutritional needs, but which also helps them to understand the importance of good nutrition from the outset, setting themselves up for a healthy and positive approach to their wellbeing in the future."
Proudly formulated, blended, and packed in Australia. We source only the finest quality imported ingredients from our trusted suppliers.
THE SUPER KIDS ELIXIR + PROTEIN
Organic Brown Rice Protein (21%), Organic Pea Protein (20%), Cocoa Powder, Coconut Sugar, Organic Cacao Powder, Apple (Malus domestica) Fruit Powder, Xylitol, Natural Flavours, Beetroot (Beta vulgaris) Root Powder, Guar Gum, Calcium Citrate, Fructooligosaccharides (FOS), Pomegranate (Punica granatum) Fruit Powder, Linseed (Linum usitatissimum) Meal Powder, Psyllium (Plantago ovata) Husk Powder, Acerola (Malpighia glabra) Fruit Powder, Carrot (Daucus carota) Root Powder, Magnesium Carbonate, Organic Barley Grass (Hordeum vulgare) Leaf Powder, Pumpkin (Cucurbita moschata) Powder, Broccoli (Brassica oleracea) Aerial Part Powder, Chamomile (Matricaria recutita) Flower Extract, Steviol Glycosides, Zinc Gluconate, Digestive Enzyme Blend (Papain & Bromelain), Ferrous Fumarate, Nicotinamide, Vitamin D3, Probiotic Blend (Lactobacillus Acidophilus, Bifidobacterium Bifidum, Bifidobacterium Lactis, Bifidobacterium Longum), Pyridoxine Hydrochloride, Thiamin Hydrochloride, Folic Acid, Cyanocobalamin.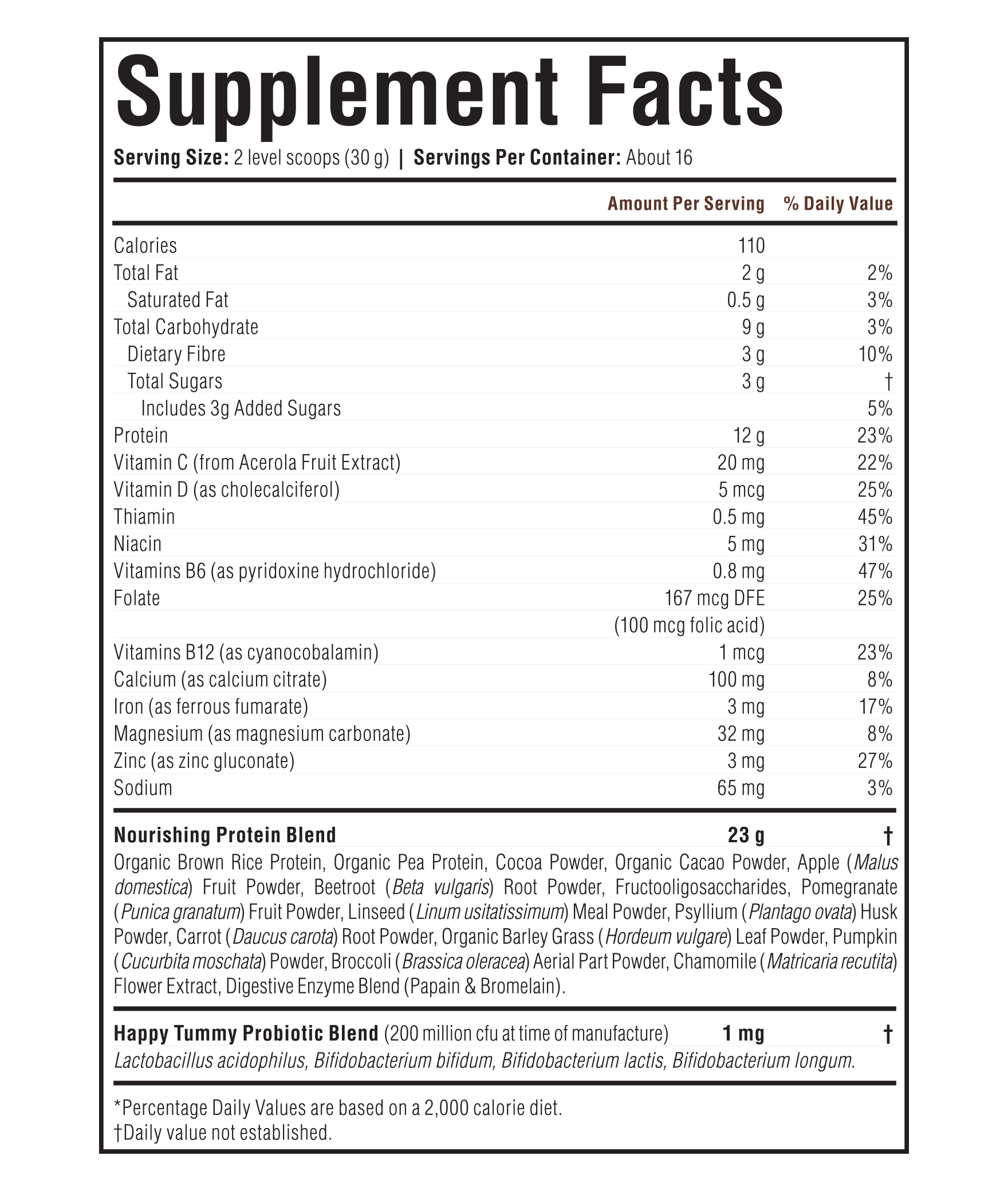 Other Ingredients: Coconut Sap Sugar, Xylitol, Natural Flavors, Guar Gum and Steviol Glycosides
It's as easy as Scoop-Shake-Snack! Add two level scoops (30 grams) of The Super Kids Elixir + Protein to 250ml (8.5 fl oz) of water or any plant-based milk for a yummy, healthy snack.
Recommended daily consumption: 2 scoops
Dietary Supplement.
Storage: Reseal lid after use and store below 87°F in a cool, dry place. Best consumed within 3 months of opening.
Use: Recommended for children 4 years and above. This product is designed to supplement a normal diet, to address situations where energy and nutrient intake may not be adequate to meet an individual's requirements. Do not use if seal is broken.
Notice: This product should be consumed with at least a full glass of liquid.
*These statements have not been evaluated by the Food and Drug Administration. This product does not intend to diagnose, treat, cure or prevent any disease.