Radiant skin starts from within.
 
WelleCo formulator Dr Simone Laubscher PhD explains "Skin is often referred to as the third kidney because, for example, whatever the liver doesn't want, it dumps onto the kidneys, and whatever the kidneys can't handle, it will dump into the skin."
Enter WelleCo's iconic plant-based greens powder The Super Elixir™ - your all-in-one ingestible beauty powder that addresses your every complexion concern.
"Your skin should always run slightly acidic so it holds moisture and your body should always run alkaline. When you take The Super Elixir™, your internal environment flips alkaline and your skin will become slightly more acidic. Ensuring the body is internally alkaline and putting you into balance will have a positive effect on the skin."
Research also indicates that getting those vital nutrients to your skin can be achieved faster in plant-based form, which is why The Super Elixir™ is formulated using 45 premium plant-based ingredients the body can easily recognise. "You're not what you eat, but you are what you digest, absorb and assimilate," says Dr Laubscher. "The body doesn't always recognise and absorb synthetic vitamins. This is why I created The Super Elixir™ from natural wholefoods, plants and herbs for easy uptake at a cellular level."
In short? The outside does reflect the inside and what you eat will show up on your skin. It's bad news if your diet runs the gamut of sugar and processed food, but it's also a simple shift to implement in your diet. It also means that you can better achieve your skin goals by cultivating a beauty-through-wellness approach in your everyday life.
Start with The Super Elixir™, which can easily slot into your daily routine. The considered, potent blend of 45 premium ingredients is designed to nourish your skin and body from top-to-toe. Here's how it can deliver a clear, radiant, complexion for any of your skin concerns.
If you're concerned about... dullness and pigmentation
Bring luminosity back to the skin by addressing the issue internally. The Super Elixir™ works at a cellular level for a clear, radiant and glowing complexion, while also guarding the skin against numerous radiance-draining factors, such as pollution and environmental aggressors.
If you're concerned about... ageing and hydration
The Super Elixir™ is formulated with acai, pomegranate, grapeseed and rosehip powders for antioxidants that help to promote healthy skin elasticity – which means you'll see less fine lines and wrinkles and an overall firmer, more youthful glow.
If you're concerned about... acne and oiliness
The Super Elixir™ also features powerful Vitamin A, which encourages cell turnover within the skin. You might already be using it topically via a retinol product, but it can also supercharge your skin when incorporated into your diet. It helps to keep excess oil at bay, while also keeping your pores clear and preventing acne from forming.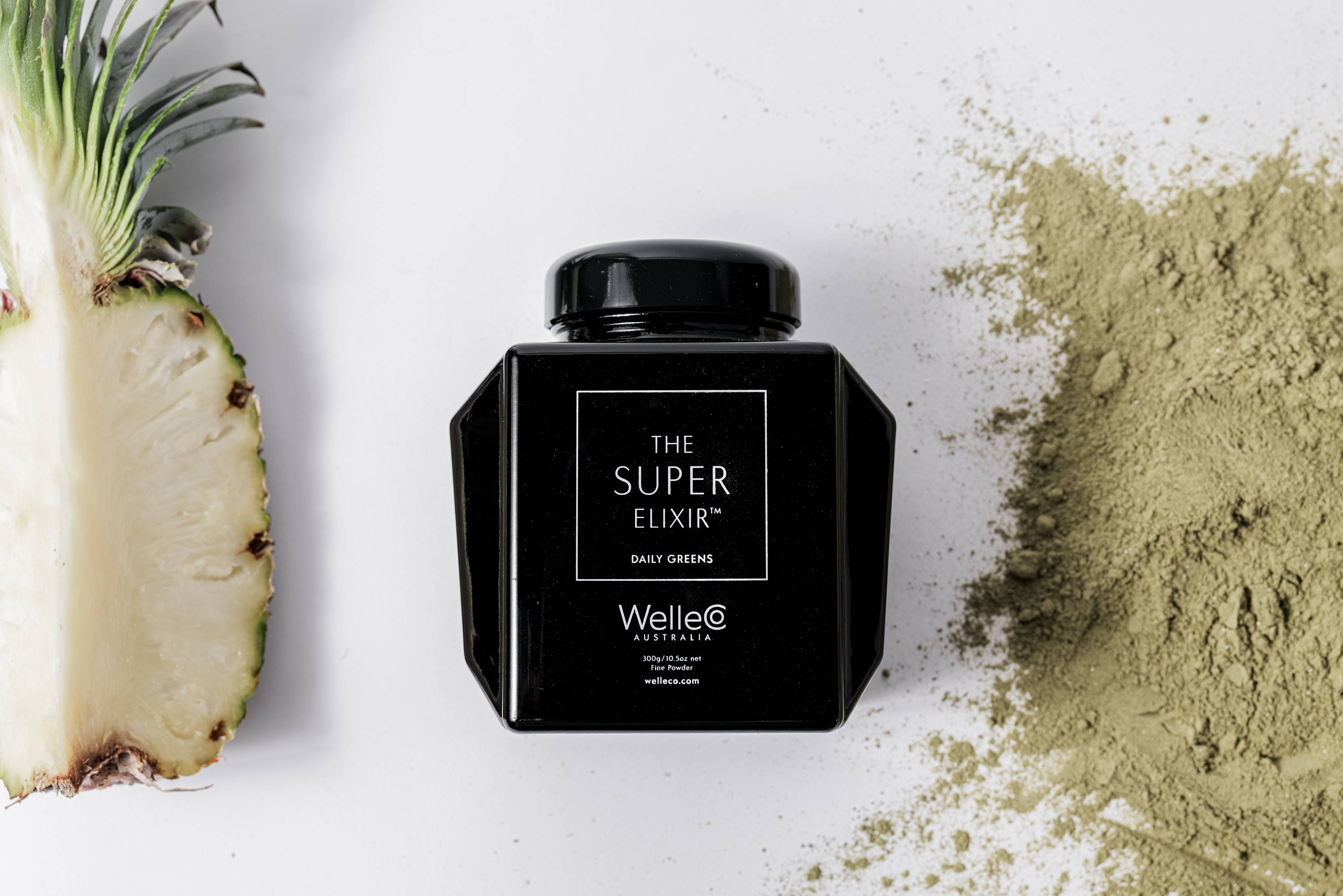 The final step to add to your skin food regime is WelleCo's own The Skin Elixir - to make caring for your skin via the gut even easier. When taken daily, WelleCo's skinnovative capsules are designed to support healthy, glowing skin with a vegan blend of natural greens, probiotics and skin-supporting ingredients in a convenient, bioavailable capsule form. The Skin Elixir capsules support skin healing and regeneration, while aiding in your skin's firmness and elasticity. Take two each morning with breakfast to encourage a healthy glow from soul to skin.
"The Skin Elixir fits effortlessly into my daily Welle routine. I take the The Super Elixir™ first thing in the morning to kickstart my system. The after I've had something to eat, I supercharge my results by taking the Skin Elixir capsules for a glowing complexion" - Elle Macpherson.